Alycia Yerves
If you've said it once, you've (only) said it ONCE 😧


Remember Ron Popeil?
The famous inventor/salesman was all over your TV back in the day, hawking his Showtime Rotisserie ovens with his famous mantra: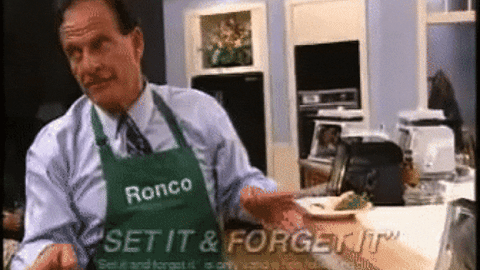 And ya know that catchy phrase gave seas of customers peace of mind-- letting them know how easy and convenient this was gonna be, and how it was going to make their life so much easier. Just do a few quick steps, walk away, and delicious results will follow. Don't you wish your marketing could work like that? Uh… that'd be nice. 😬
People need to see your offer / sale / message multiple times before taking action. YOU KINDA CAN'T JUST "SET IT AND FORGET IT."
Before you get discouraged, this isn't a bad thing! But it's a realization that will help you to get in front of even more of your ideal clients.
About that last tip.
The customer journey is the path of interactions someone has with your brand. It normally looks something like this:
When you work to stay front of mind for your potential customers (via regular social media posts, emails, ads, etc), you are increasing the likelihood that they will choose you when they're finally ready to buy that product or book that service.
ONE AND DONE? NOPE.
Keep at it.
You'll repeat yourself a lot.
It's okay, it's part of it.
It's kinda the most important part.
National treasure, Paul Rudd, reminds me >>> I only have a few remaining calendar slots this winter for content strategy, brand design, & web design projects. If I've been on your back burner, now's the time! Get in touch.
P.S. Want to tighten up your web presence but just not quite sure where to start with "all the things"? ⤵️
Join my Facebook group | Let's hang out on Insta! | Wanna work together?